Plan to build university at Petrie
Southeast Queensland's newest public university could be built on 200 hectares of land at Petrie, if plans from Moreton Bay Regional Council go ahead.
Mayor Alan Sutherland confirmed on Wednesday the council was in the final stage of negotiations – which began in 2013 – to buy the old Amcor Petrie Paper Mill site to make way for a possible university.
"Council has been negotiating for quite a while now – a 12-month period –with the people that own the old paper mill site," Cr Sutherland said.
He said some areas of the large site were "under constraint", but said there was plenty of flexibility in how the site could be used if the council was successful.
"But there is a footprint that is quite sizeable that will be suitable for a university precinct," Cr Sutherland said.
Cr Sutherland said there was good rail access to the site, which would make it attractive to a private operator and to students.
"Petrie Station is actually on site," he said. "It was built for the original mill.
"So in effect, it is on the intersection of the east-west rail and the north south.
The 2011 census showed Moreton Region (52 per cent) had a lower than state average proportion (54.2 per cent) of people with a tertiary qualification.
The mayor said there was no major university campus in the region, which currently had more than 350,000 residents – a figure which would grow to 500,000 by 2031.
That lack was identified in the council's regional planning planning strategy one of two key weaknesses in the Moreton Bay region.
The issue was also highlighted in the region's economic development strategy.
"Given that we are going to have a population larger than Tasmania in 20 years, one would think good future planning would allow for a future university campus in the region," Cr Sutherland said.
He said the broad concept was that the council would call for expressions of interest to develop a university campus and then allow a tender process to proceed.
"In August we intend to have an open day on the site to release it to the public," he said.
"If people want some consultation, we are happy to show them our plans."
Cr Sutherland said he wanted to make it clear that while the council was well advanced with its planning, it did not yet own the old Paper Mill site.
However he said negotiations were underway.
"There is even negotiations going on now back at the council chambers," Cr Sutherland said on Wednesday.
"We are just going through the final legal detail and we hope to be in a position to be able to make an announcement before the end of the year."
However some Moreton Bay residents have questioned the need for the council to buy land for a university campus.
Alan Preo, secretary of Reclaim Caboolture Shire Incorporated, warned on the group's website that the university proposal could be expensive for ratepayers.
"It is difficult to understand why Moreton Bay Regional Council is getting involved with projects such as railways and universities, which have not been the province of local government, but rather state governments," Mr Preo said.
"The dream of Mayor Sutherland and his university may turn into a nightmare and leave the Moreton Bay regional community with excessive and unnecessary debt."
Property Group Buys Land Plots for Development in Brisbane's North
Brisbane-based property group, CFMG capital has acquired two land parcels in Brisbane's growing northern corridor to develop a 130-lot residential project.
The land parcels total 6.72-hectares at Graham Road, Morayfield, and each lot will provide a new house ranging from 300 to 687sq m. The acquisition will take CFMG's pipeline to more than 1,000 lots across Queensland and Victoria.
CFMG managing director Scott Watson said pre-release marketing had generated strong sales enquiry from both owner -occupiers and local volume builders looking to secure land for their clients.
"The momentum of the project is expected to continue with official data indicating the demand for quality affordable projects in strong growth corridors forecast to continue," he said.
Since 2009 Morayfield has experienced an average of 2.5 per cent population growth, higher than the state average of 1.8 per cent.
The project also benefits from close proximity parkland facilities, schools, childcare, shopping centres, specialty retailers and public transport networks.
CFMG Capital operates two core divisions: a residential communities' development business and residential funds management business which has raised more than $90 million in third party equity.
According to the company, sales in Morayfield have already been strong with 40 pre-sales already in place and current contract exchanges totaling a sales value of $7.2 million.
In the first half of the 2017-18 financial year CFMG secured more than 200 sales across six separate projects in Queensland and Victoria.
"Through most of calendar year 2017 we saw significant spikes in both enquiry and ultimately sales, and as a result we were able to achieve incremental price growth across multiple projects without noticeable impact on sales rates," he said.
"Particularly in the back half of 2017, there was a strong appetite for land registering in early 2018 which could attract a premium price.
CFMG recently secured a 6.8-hectare land parcel in Bridgeman Downs, 12 kilometres north of the Brisbane CBD.
Originally Published: theurbandeveloper.com
$250 million mixed-use development a boon for north Brisbane suburb
Moreton Bay Regional Council has given the green light to a 1.7-hectare mixed-use development which will transform one of Queensland's fastest growing areas.
With Brisbane-based practice Richards and Spence as lead architects, the Laguna development will be built in the heart of the suburban area of North Lakes, 26 km north of Brisbane.
It will feature 5,000 square metres of fashion, food and beverage retail space; a 140-room hotel; 2,000 square metres of health and wellness facilities; a 1,500-square-metre "resort-style" restaurant and bar; a convention and events centre and a publicly accessible aquatic centre with a lagoon-style pool.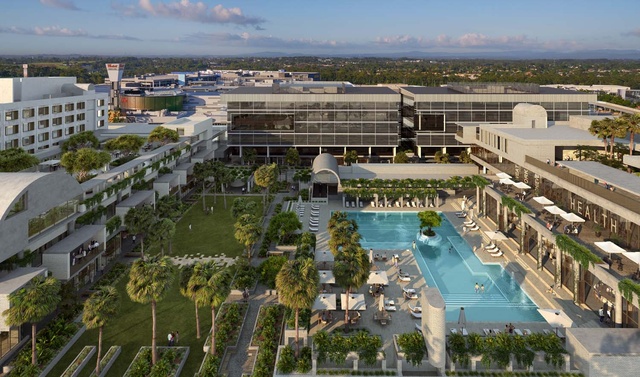 Moreton Bay mayor Allan Sutherland said at the time of approval that the project would add to the 7,700 jobs in the North Lakes area, provide public green space and bolster the suburb's reputation.
Originally part of Mango Hill, North Lakes was gazetted as a separate suburb in 2006, with its name derived from the masterplanned estate developed by property group Stockland. The suburb's population has since grown exponentially, with the 2011 census recording a population of 15,046 and the 2016 census recording 21,671 people living in the area.
Richard and Spence director Ingrid Richards said "middle-ring" or "fringe" suburbs such as North Lakes often lack the cultural and social amenity associated with living close to the city. She said that as Australian cities grow outwards, developers, retailers and councils alike have "not just an opportunity but an obligation to help alleviate this shortcoming."
"It's critically important to provide quality retail and mixed-use amenity for the population that will call these areas home," she said.
The Laguna development is intended to deliver this amenity all in one go. Richards said, "It's got a complexity, and it's got a depth to it as a suburb, as a fully functioning place."
The precinct will be centred on a tree-lined, pedestrian-orientated high street, to be known as Laguna Drive, which will feature retail, cafe and outdoor dining space.
"We're trying to raise the bar of what is good public space, of what is a good, exciting, engaging retail environment," Richards said.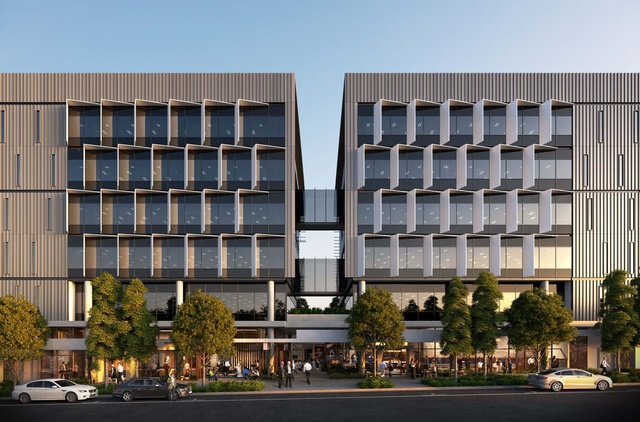 In addition to the retail and hospitality offerings, the project will also feature 10,500 square metres of office space across two buildings designed by Nettleton Tribe.
Richards said it was vital that jobs were created through the development.
"As a complete, masterplanned development…you can actually work there," she said. "Everyone's not necessarily driving to Brisbane for work, because there is business there. So, it's not just a housing development, and that's an important distinction to make."
The project is being developed by the George Group in conjunction with Pointcorp.
Construction of the project is planned to commence in early 2018, with completion slated for late 2020.
Originally Published: architectureau.com
Moreton Bay Regional Council makes decision on North Lakes commercial precinct
DEVELOPERS of the proposed Laguna North Lakes commercial precinct will have six years to begin the project after getting council approval today.
The council this morning adopted a ­Material Change of Use ­application for the development at its coordination committee meeting at Strathpine.
The application is for a catering premises, commercial services, convention centre, hotel, indoor recreation, licensed club, ­occasional market, office, restaurant and shop.
It was lodged by Wolter Consulting Group with the Council listed as the owner of the site, which covers land at 28-40 North Lakes Drive, 10 The Corso and 75 Lakefield Drive.
The application was ­initially lodged on May 19.
Council planners, in the report to council, said it would be a high-quality mixed-use development.
The proposed development, which would cover the 1.72ha site, would be constructed over four stages, the report stated.
"The proposal seeks to create a unique experience in the North Lakes area, ­establishing a boutique ­retail, dining and lifestyle precinct in the heart of North Lakes," it stated.
"The proposal will ­contain a total gross floor area of 34,892sq m and consist of five new buildings ranging in height from two storeys up to six storeys.
"The tallest buildings ­include the hotel and function centre and the commercial office towers (six storeys) which front The Corso and North Lakes Drive respectively.
"The development will be supported by a multi-level basement carpark, which will be integrated with the existing basement carpark situated beneath the existing council library.
"A new laneway (Laguna Drive) is proposed to connect The Corso and Lakefield Drive, internal to the site, which will enhance ­accessibility for users by providing short-term parking options and passenger set-down."
The report recommended councillors approve the ­development, subject to amendments and conditions.
One of the recommended amendments was for a taxi rank set-down area adjacent to the function centre lobby. This would be designed to include either a drop-off/pick-up zone or a dedicated parking bay capable of accommodating a taxi suitable for use by people with ­disabilities.
The $250 million project first made headlines in ­December last year when it was announced Pointcorp and the George Group would develop the land, that at the time was being used for car parking.
Mayor Allan Sutherland said at the time the ­eventual sale price of the land would be $7.7 million and the developers were to pay a $700,000 deposit on a four-year lease.
A leasing campaign to ­attract retail and commercial tenants was launched in May.
Originally Published: www.couriermail.com.au