A new master planned residential development is soon to launch in Narangba, north of Brisbane.
The site is being developed through a joint venture between Pointcorp and the Dahua Group. The lots will be delivered in ten stages and once complete, will provide 467 house and land packages — with an expected end value of $222 million.
Pointcorp diversified into house and land packages last year launching their first first land project — a 344-lot land division — in Coomera on the Gold Coast.
Last week, Queensland Acting Premier and Treasurer Curtis Pitt visited the master planned site in Narangba.
Pitt said the Moreton Bay Regional Council was the fastest growing municipality in Queensland and one of the fastest growing regions in Australia.
"It's forecast to grow in population by more than 40 per cent over the next 20 years and there are plans in place for a range of residential housing for growing communities to call home," Pitt said.
All house and land packages at Amity will qualify for the $20,000 Queensland first home owner's grant.
"The grant can be applied to newly constructed homes up to $750,000 and not only help Queenslanders into their own home, but also supports jobs in our building industry," Pitt said.
Pointcorp's Chris Vitale said the company acquired the land in January 2016 in partnership with Dahua.
"We're designing a one-of-a-kind community not seen before, and our partnership with leading global developer Dahua Group will ensure we develop [a] wide range of affordable housing product," Vitale said.
Amity's future contribution to the region's housing stock supply allowed Dahua to qualify for relief from additional foreign acquirer duty (AFAD). AFAD was introduced to ensure foreign acquirers of residential property who benefit from government services and infrastructure also contribute to their delivery, the same as local buyers.
"We welcome mutually beneficial foreign investment and by maintaining sufficient flexibility when it comes to the additional duty charged to foreign entities," Pitt said.
Amity will launch to the public in October. The first stage of the community comprises 93 house and land packages ranging in price from $398,000 to $600,000.
Originally Published: www.theurbandeveloper.com
Developer Proposes Moreton Bay Marina Hotel and Apartment Project
Brisbane-based developer Kindred has lodged plans with the Moreton Bay Regional Council for two 10-storey buildings along Newport's picturesque marina.
The 11,133sq m site is owned by local business owner Joshua Kindred, who is the CEO of Kindred Group.
The proposal, to create a "world-class marina" has been lodged on behalf of Kindred by planning group Urbis.
The first of the two proposed towers will comprise a 120-room hotel and 24-serviced apartments.
The second building will be entirely residential, with 93 apartments.
Designed by Rothelowman, the Griffith Road development will deliver a 555sq m conference facility, 980sq m of retail, as well as restaurants, bars, and office and marine facilities.
"We need more places like this. We have great festivals around here yet no where for people to stay," Ryan Elson of the Redcliffe Peninsula Chamber of Commerce said.
"We have a lot of people coming in a 10 and leaving at 4, what we would love is for them to be able to stay the night to be able to experience the Peninsula for what it is and the short term accommodation will be amazing for that."
Artistic impressions of what the Newport Marina development at 156 Griffith Road.Image: Rothelowman
The project is a record investment for a private development in Redcliffe Peninsula.
"We have more than 4 million visitors expected in the Moreton Bay region in this financial year," Attorney General of Queensland the honorable Yvette D'Ath said.
"We don't have enough short term accommodation or function centre space and that is what a development like this will provide."
The development plans to create a leading education and science facility onsite, that also provides education to locals and tourist on the wonders of the bay and its inhabitants.
A 90,000L outdoor aquarium has also been proposed for the site which will double as an acoustic barrier, treating sound from the ground floor area.
An innovative bike share program for the Redcliffe Peninsula has also been sounded out as part of the development, to be set up through government agencies or a privately funded initiative.
Plans have also been sounded out for an innovative 'shared solar car' program within its residential offering.
Residents on site will also be able to book a shared solar car to use at their leisure.
The building heights surpass the Moreton Bay Planning Scheme where the Marine Industry precinct and surrounding buildings have a height limitation of 15 metres.
This has drawn pushback from local action groups who have voiced their concerns.
The development will now be subject to council approval.
Source:theurbandeveloper.com
Property Group Buys Land Plots for Development in Brisbane's North
Brisbane-based property group, CFMG capital has acquired two land parcels in Brisbane's growing northern corridor to develop a 130-lot residential project.
The land parcels total 6.72-hectares at Graham Road, Morayfield, and each lot will provide a new house ranging from 300 to 687sq m. The acquisition will take CFMG's pipeline to more than 1,000 lots across Queensland and Victoria.
CFMG managing director Scott Watson said pre-release marketing had generated strong sales enquiry from both owner -occupiers and local volume builders looking to secure land for their clients.
"The momentum of the project is expected to continue with official data indicating the demand for quality affordable projects in strong growth corridors forecast to continue," he said.
Since 2009 Morayfield has experienced an average of 2.5 per cent population growth, higher than the state average of 1.8 per cent.
The project also benefits from close proximity parkland facilities, schools, childcare, shopping centres, specialty retailers and public transport networks.
CFMG Capital operates two core divisions: a residential communities' development business and residential funds management business which has raised more than $90 million in third party equity.
According to the company, sales in Morayfield have already been strong with 40 pre-sales already in place and current contract exchanges totaling a sales value of $7.2 million.
In the first half of the 2017-18 financial year CFMG secured more than 200 sales across six separate projects in Queensland and Victoria.
"Through most of calendar year 2017 we saw significant spikes in both enquiry and ultimately sales, and as a result we were able to achieve incremental price growth across multiple projects without noticeable impact on sales rates," he said.
"Particularly in the back half of 2017, there was a strong appetite for land registering in early 2018 which could attract a premium price.
CFMG recently secured a 6.8-hectare land parcel in Bridgeman Downs, 12 kilometres north of the Brisbane CBD.
Originally Published: theurbandeveloper.com
$250 million mixed-use development a boon for north Brisbane suburb
Moreton Bay Regional Council has given the green light to a 1.7-hectare mixed-use development which will transform one of Queensland's fastest growing areas.
With Brisbane-based practice Richards and Spence as lead architects, the Laguna development will be built in the heart of the suburban area of North Lakes, 26 km north of Brisbane.
It will feature 5,000 square metres of fashion, food and beverage retail space; a 140-room hotel; 2,000 square metres of health and wellness facilities; a 1,500-square-metre "resort-style" restaurant and bar; a convention and events centre and a publicly accessible aquatic centre with a lagoon-style pool.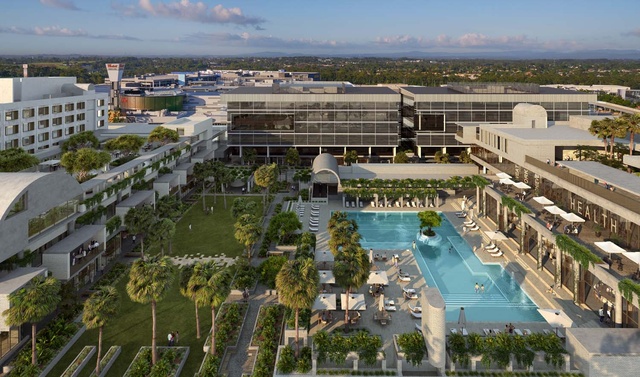 Moreton Bay mayor Allan Sutherland said at the time of approval that the project would add to the 7,700 jobs in the North Lakes area, provide public green space and bolster the suburb's reputation.
Originally part of Mango Hill, North Lakes was gazetted as a separate suburb in 2006, with its name derived from the masterplanned estate developed by property group Stockland. The suburb's population has since grown exponentially, with the 2011 census recording a population of 15,046 and the 2016 census recording 21,671 people living in the area.
Richard and Spence director Ingrid Richards said "middle-ring" or "fringe" suburbs such as North Lakes often lack the cultural and social amenity associated with living close to the city. She said that as Australian cities grow outwards, developers, retailers and councils alike have "not just an opportunity but an obligation to help alleviate this shortcoming."
"It's critically important to provide quality retail and mixed-use amenity for the population that will call these areas home," she said.
The Laguna development is intended to deliver this amenity all in one go. Richards said, "It's got a complexity, and it's got a depth to it as a suburb, as a fully functioning place."
The precinct will be centred on a tree-lined, pedestrian-orientated high street, to be known as Laguna Drive, which will feature retail, cafe and outdoor dining space.
"We're trying to raise the bar of what is good public space, of what is a good, exciting, engaging retail environment," Richards said.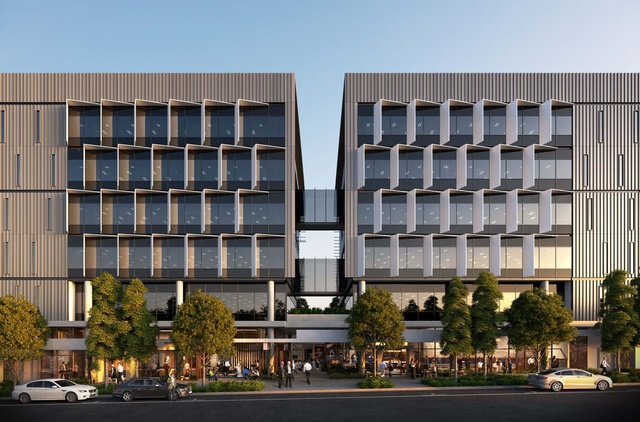 In addition to the retail and hospitality offerings, the project will also feature 10,500 square metres of office space across two buildings designed by Nettleton Tribe.
Richards said it was vital that jobs were created through the development.
"As a complete, masterplanned development…you can actually work there," she said. "Everyone's not necessarily driving to Brisbane for work, because there is business there. So, it's not just a housing development, and that's an important distinction to make."
The project is being developed by the George Group in conjunction with Pointcorp.
Construction of the project is planned to commence in early 2018, with completion slated for late 2020.
Originally Published: architectureau.com