$250 million mixed-use development a boon for north Brisbane suburb
Moreton Bay Regional Council has given the green light to a 1.7-hectare mixed-use development which will transform one of Queensland's fastest growing areas.
With Brisbane-based practice Richards and Spence as lead architects, the Laguna development will be built in the heart of the suburban area of North Lakes, 26 km north of Brisbane.
It will feature 5,000 square metres of fashion, food and beverage retail space; a 140-room hotel; 2,000 square metres of health and wellness facilities; a 1,500-square-metre "resort-style" restaurant and bar; a convention and events centre and a publicly accessible aquatic centre with a lagoon-style pool.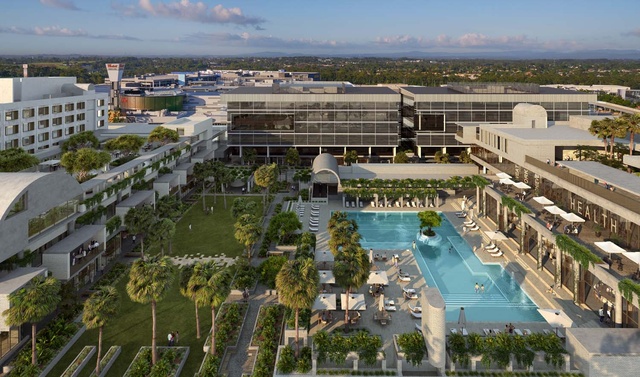 Moreton Bay mayor Allan Sutherland said at the time of approval that the project would add to the 7,700 jobs in the North Lakes area, provide public green space and bolster the suburb's reputation.
Originally part of Mango Hill, North Lakes was gazetted as a separate suburb in 2006, with its name derived from the masterplanned estate developed by property group Stockland. The suburb's population has since grown exponentially, with the 2011 census recording a population of 15,046 and the 2016 census recording 21,671 people living in the area.
Richard and Spence director Ingrid Richards said "middle-ring" or "fringe" suburbs such as North Lakes often lack the cultural and social amenity associated with living close to the city. She said that as Australian cities grow outwards, developers, retailers and councils alike have "not just an opportunity but an obligation to help alleviate this shortcoming."
"It's critically important to provide quality retail and mixed-use amenity for the population that will call these areas home," she said.
The Laguna development is intended to deliver this amenity all in one go. Richards said, "It's got a complexity, and it's got a depth to it as a suburb, as a fully functioning place."
The precinct will be centred on a tree-lined, pedestrian-orientated high street, to be known as Laguna Drive, which will feature retail, cafe and outdoor dining space.
"We're trying to raise the bar of what is good public space, of what is a good, exciting, engaging retail environment," Richards said.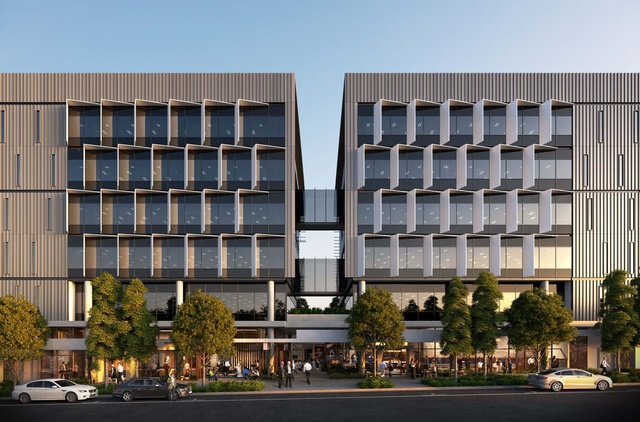 In addition to the retail and hospitality offerings, the project will also feature 10,500 square metres of office space across two buildings designed by Nettleton Tribe.
Richards said it was vital that jobs were created through the development.
"As a complete, masterplanned development…you can actually work there," she said. "Everyone's not necessarily driving to Brisbane for work, because there is business there. So, it's not just a housing development, and that's an important distinction to make."
The project is being developed by the George Group in conjunction with Pointcorp.
Construction of the project is planned to commence in early 2018, with completion slated for late 2020.
Originally Published: architectureau.com
Development Opportunity in Growth Corridor Hits the Market
A development site in one of Moreton Bay region's fastest growing residential areas has hit the market.
Expressions of interest are being sought for the 3,295sq m site at 144 Station Road, Burpengary. The asset has district centre zoning that allows for multiple uses.
The site is marketed by Ray White Special Projects Queensland's Andrew Burke and Matthew Fritzsche.
Burke said the asset offered multiple opportunities that included childcare, commercial, retail and medium-density residential.
"The site is in the middle of the Burpengary retail precinct with neighbours like 7-Eleven, McDonalds, Aldi, Coles, Woolworths, World Gym, Kmart and many more," he said.
"With easy access to the Bruce Highway, you would be 40 minutes north of Brisbane and just 30 minutes south of Sunshine Coast.
"The site is offered clear and mostly level and is within walking distance of retail and schools with the nearby Burpengary rail station serviced by the Caboolture Line."
Fritzsche said Burpengary was a rapidly developing growth hub within the Moreton Bay Regional Council.
"There are 19,000 residents in the northern urban expansion corridor between the master planned community of North Lakes and the long-established regional centre of Caboolture," he said.
"The site is along Station Road, a prominent local feeder road in the region, with the site enjoying excellent exposure to around 8,900 vehicles per day.
"The asset is surplus to the needs of our client and they are genuine sellers."
Source: theurbandeveloper.com
Strategic Land Parcels Hit the Market In One Line
Water supply statutory authority Unitywater is offloading three unique land parcels in Cashmere, west of Brisbane.
Subject to a reconfiguration of lots, the properties are offered to the market by way of expressions of interest closing 8 May, 2019, by Colliers International.
The properties, at Lot 1 and 3 Ira Buckby Road, are marketed both individually or in one line and combine a total area of 3.07-hectares with approximately 1.47-hectares of developable area, with excellent street frontage.
The properties neighbour the Cashmere Village Shopping Centre which comprises an IGA, medical centre, gym, veterinary, bottle shop and café deli.
Lot 1 is a 2.15-hectare parcel — subject to a ROL — and offers 5,896sq m of developable area. Lot 3 Ira Buckby Road is a separate parcel that totals 8,852sq m of developable land.
With rural residential zoning, within the urban footprint, all parcels are well-suited to specialist disability accommodation providers, residential aged care operators or residential developers and religious organisations.
Town planning reports reveal development possibilities for both properties under the council zone include dwelling house (considered acceptable as code) or the reconfiguration of lot considered with minimum lot sizes of 6,000 square metres.
The properties are located 16 kilometres south of rapidly-growing North Lakes and 8.5 kilometres from the new University of the Sunshine Coast Moreton Bay Campus project.
An excellent opportunity like this will be hard to turn down when the area it resides in is one like this.
The Moreton Bay local government area is in south-east Queensland, about 100 kilometres north of Brisbane. The Moreton Bay local government area is Australia's third largest Council with 449,310 residents.
Moreton Bay has a number of game-changing infrastructure investment projects in the pipeline including the $1.6 billion Bruce Highway expansion and upgrade and the $300 million University of the Sunshine Coast's Moreton Bay Campus. Both pieces of infrastructure are scheduled to be completed in 2020.
The parcels of land at Lot 1 and Lot 3 Ira Buckby Road West, Cashmere are extremely well-located strategic land parcels that will attract a wide range of buyers given the significance of the sites.
Source: theurbandeveloper.com
Boutique Development Sites in Brisbane Growth Corridor Hit the Market
A demand-driven market shift for affordable convenient living is expected to generate strong interest from builders and developers in two approved boutique development sites on the north side of Brisbane.
The sites occupy a prime boulevard setting across from the lake in one of Brisbane's most successful masterplanned communities, Capestone Mango Hill, only 5 minutes to Westfield and North Lakes Town Centre.
CBRE head of metropolitan investments and development site specialist Jon Quayle is managing the sale of the "shovel ready" sites via a national expressions of interest campaign.
Zoned medium-density residential, the cleared and vacant Napier Avenue properties are 1,040sq m and 1,108sq m respectively with development and building approvals for boutique apartment developments comprising 17 predominantly 3-bedroom apartments in each.
Quayle said the Mango Hill and North Lakes region is recognised as one of Australia's leading growth markets for population, infrastructure and employment.
"Which has contributed to a 25 per cent increase in median house prices in Mango Hill over the past 5 years," Quayle said.
"This growth, coupled with the emergence of dedicated local industry, retail and lifestyle amenity and the soon to open nearby University of the Sunshine Coast campus, has seen a push by owners and investors for more affordable dwellings to cater for the demographic shift and second generation residents who want to stay in the region but with the benefit of affordability and convenience over a traditional house," Quayle said.
The Capestone development sites are located within 300 metres of a future shopping village, 400 metres to a recently opened childcare centre and has easy access to 4 leading primary and secondary schools within a 1.5 kilometres radius.
Quayle said that a game changer for the success of apartments in the area was the opening of the Moreton Bay rail link, with the East Mango Hill Station only 500m away creating easy access to the new university, Brisbane CBD and beyond.
"There has been just one other apartment building delivered in the immediate area which was completed last year and is of comparable design, bulk and scale to what is proposed for the 56 & 64 Napier Avenue sites," Quayle said.
"Individual apartments sold in that building for prices up to $462,000 including a resale late last year for more than its original purchase price.
"Evidently demand exists for new, good sized apartments in the area yet there is still a lack of this product.
"This is the opportunity that exists for a builder or developer to take advantage of by securing one or both of these rare approved medium density development sites."
56 & 64 Napier Avenue, Mango Hill will be sold individually or as a pair with expressions of interest closing at 4pm, 2 May 2019.
Source: theurbandeveloper.com